How to calculate number of zones
You can calculate zones and fares for your journey using our journey planner:
Go to the journey planner and search for your journey
Open the journey suggestion you would like to travel with
Go to "View fare for journey" at the botton of the journey suggestion
Find zones and fares in the journey planner
Zone map
The entire Metro system is in Zone 1.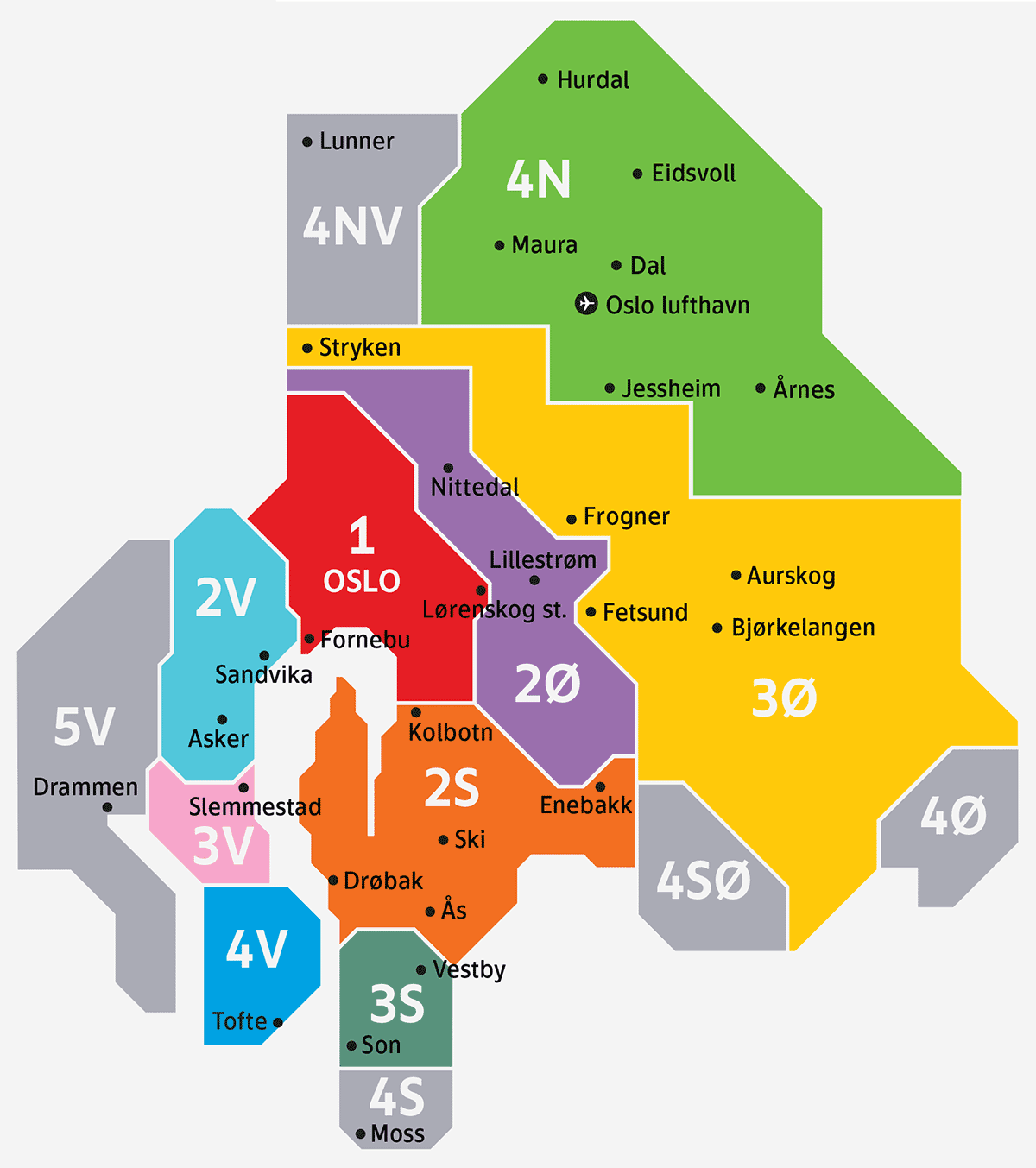 Zones outside Oslo and parts of Viken (formerly Akershus)
In some places, Ruter's services extend outside the Oslo and the former Akershus region into other parts of Viken.
Zone 5V in Drammen and Lier
In zone 5V we operate bus routes 251 and 261. If you're travelling to/from zone 5V, we recommend you purchase your ticket from the public transport provider Brakar in the BrakarBillett app. With this ticket you can transfer to other routes in zones 3V, 4V and 5V. You cannot use a Brakar travelcard on routes 251 and 261.
If you have bought a single ticket on board a Brakar service, this entitles you to transfer to a Ruter service, and vice versa. However, you cannot use a Brakar travelcard on our services. This is because Ruter's ticket machines are unable to activate or read Brakar's tickets, and vice versa.
4SØ and 4Ø in Rømskog and Trøgstad in Viken
Ruter's tickets and fares apply as usual on our services in these zones. If you have a Ruter ticket for zone 4SØ, you can transfer to and from ØKT's routes.
4S in Moss in Viken
Ruter's bus service 540 operates in zone 4S. Valid Ruter tickets can be used on connecting ØKT bus services. Both period tickets on your travelcard, and a school card issued in Viken, are valid on Ruter's 540 service.
Ruter's tickets and fares do not apply on Vy's train services in this part of Viken (formerly Østfold).
4NV in Lunner
Harestua, Grua, Roa and Lunner railway stations are located in zone 4NV, and Ruter's tickets are valid on train services RE30 and R31. Please note that Ruter's tickets are not valid on bus services in the area.
Related information