Before you get started with Reis:

Reis is available to everyone with the Ruter app from 16 April, but remember to update the app to the latest version to get Reis.
We recommend logging in before you buy your first ticket with Reis. If you do, your discount is safely stored on your profile.
Reis is perfect if you commute 1-3 days a week or have a more unpredictable travel pattern. Maybe you've experienced that our period tickets don't match your needs, and simply need more flexibility when travelling.
How to get the Reis discount
In short: If you buy a single ticket as an adult or senior, you automatically get a discount – regardless of which zones you travel in.
The discount is personal and is earned when you buy single tickets in the Ruter app.

You always get a 20% discount on children's tickets, regardless of whether you buy tickets in the app or elsewhere.

There are no restrictions on how many tickets you can buy with a discount for children. This applies both if you buy on your own phone or if the ticket is sent to the child.
How the discount works
The size of your discount depends on how often you travel: With Reis, you'll earn a personal discount based on how many single tickets you have purchased in the last 30 days. The more you travel, the higher your discount.
You buy a single ticket as usual every time you travel.

You start earning your personal discount on single ticket number one, but get your first discount on ticket number two.

During the first 30 days, each trip will take you one step higher on the discount ladder.
After the first 30 days, your discount will flatten out and remain at the same level if you have a regular travel pattern.
If you travel more than usual, your discount will go up. The maximum discount is 40% of the price of a regular single ticket.
If you travel less than usual, your discount may go down. The discount only goes down to zero if you haven't purchased any single tickets during the last 30-day period.
The price you pay for each ticket is therefore always tailored to your unique travel pattern.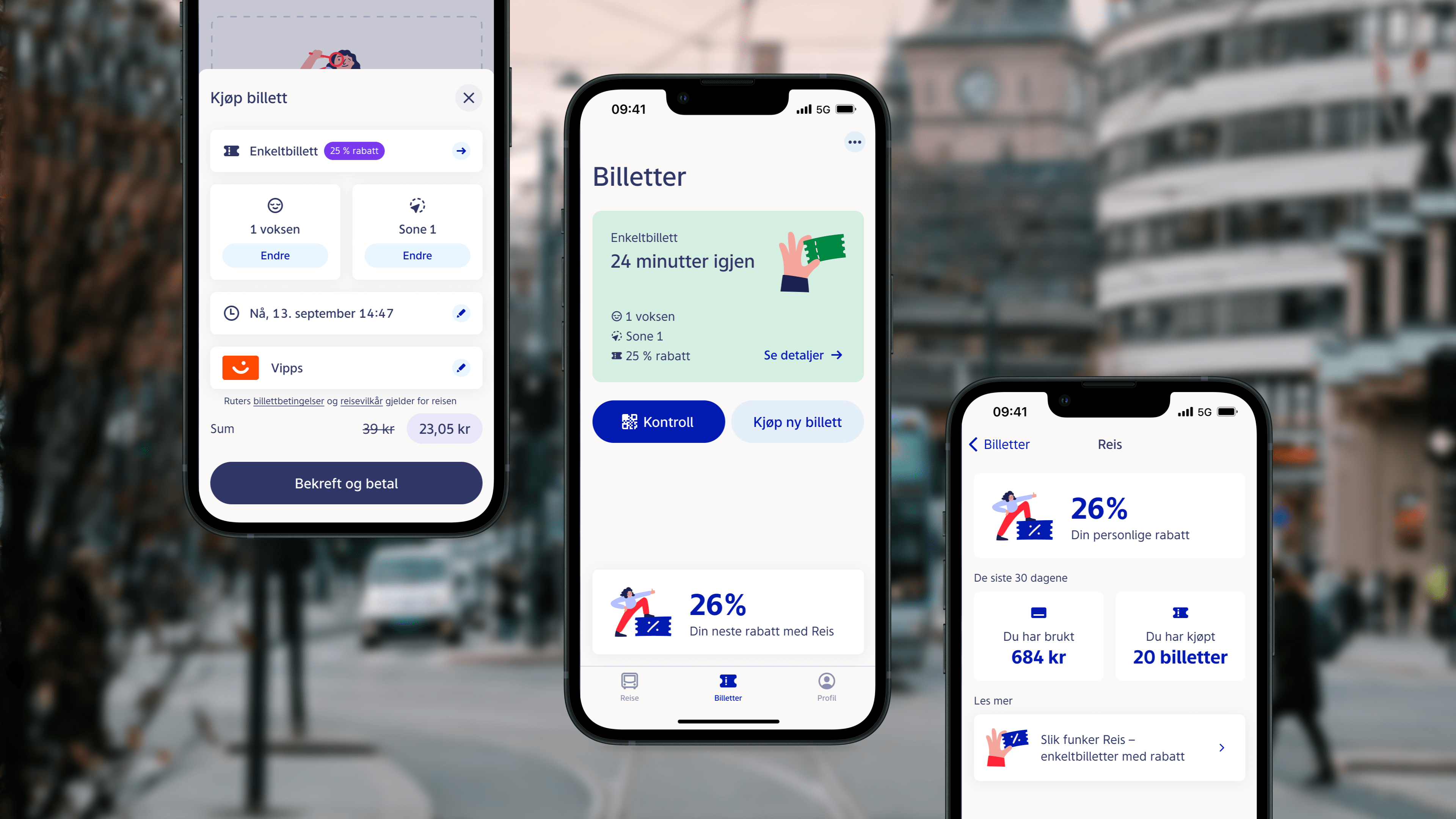 The discount in more detail
Here's an example of how much discount you can get if you have a regular travel pattern per week:
| Journeys per week | Discount |
| --- | --- |
| 1 day (2 journeys) | 21 % |
| 2 days (4 journeys) | 29 % |
| 3 days (6 journeys) | 37 % |
Get an overview of all discounts with Reis
This is just the beginning of Reis!
When Reis is released, we'll learn a lot about how the product fits into your everyday travels. We'll use that insight to adjust Reis and make an even better product over time. This also means that the discount model can change as we go.
Practical info about Reis
General
If you haven't turned on automatic updates, you must manually update the Ruter app to get Reis on your phone. You can do this by searching for the Ruter app in App Store (iPhone) or Google Play Store (Android).
You can buy discounted tickets as an anonymous user of the app, but we still recommend that you log in. This way, your discount is always safely stored on your profile if you switch phones or lose your phone later on.
You can log in under Profile in the app.
Reis is made for those who commute 1-3 days per week. If you travel more than this, the 30-day ticket will most likely be your best option.
If you are in and around this number of weekly trips, or have a varied travel pattern from month to month, you may consider Reis as an alternative if you want more flexibility.
The discount
If you are traveling as an adult or a senior, you can only have one discounted ticket at a time. If you already have an active ticket with a discount, you must wait for it to expire before you can purchase a new ticket with a discount.

The only exception is if you buy children's tickets with a discount. However, if you're buying two tickets with a discount – for example for yourself and a child – you must buy the tickets separately to get a discount on both.
Only children's tickets with a discount can be purchased and sent to others. If you are travelling as an adult or senior, your discount is personal, which means that you don't receive or earn a discount on tickets sent to others.
Reis is a pilot project paid for by the City of Oslo and Viken county municipality. Ruter's goal is to give an average of 20% discount on all single tickets. To achieve that goal, we reserve the right to adjust the discount model along the way.

You can always see your current discount in the Ruter app before purchasing your next ticket.
Travelcard and other apps
An alternative with discounts on travelcards for adults and seniors was launched in June.
If you're using the old RuterBillett app, you have to switch over to the new Ruter app to get a discount on single tickets as an adult or senior.
Reis is also available in the Vy and Entur apps. The discount you earn there does not apply in the Ruter app, and they are responsible for the product in their apps. If you have any questions about Reis in connection with the Vy or Entur apps, you need to contact the respective companies directly.
Get in touch!
Please give us a call on 22 05 70 70 if you have any questions about Reis and your discount.