Status

We asked the Directorate of Public Roads for permission to run self-driving buses at Ormøya.
We expect to start in December 2019.
Questions and answers
Where do the buses drive at Ormøya?
The buses will run from Malmøya to Mosseveien with route number 85B. The buses are expected to run for 12 months.
The bus stops are the same as those for bus route 85: Ormsundbakken, Mailand, Kirkebakken, Malmøysundet and Malmøya. They will also stop at a designated stop at the footbridge that crosses Mosseveien.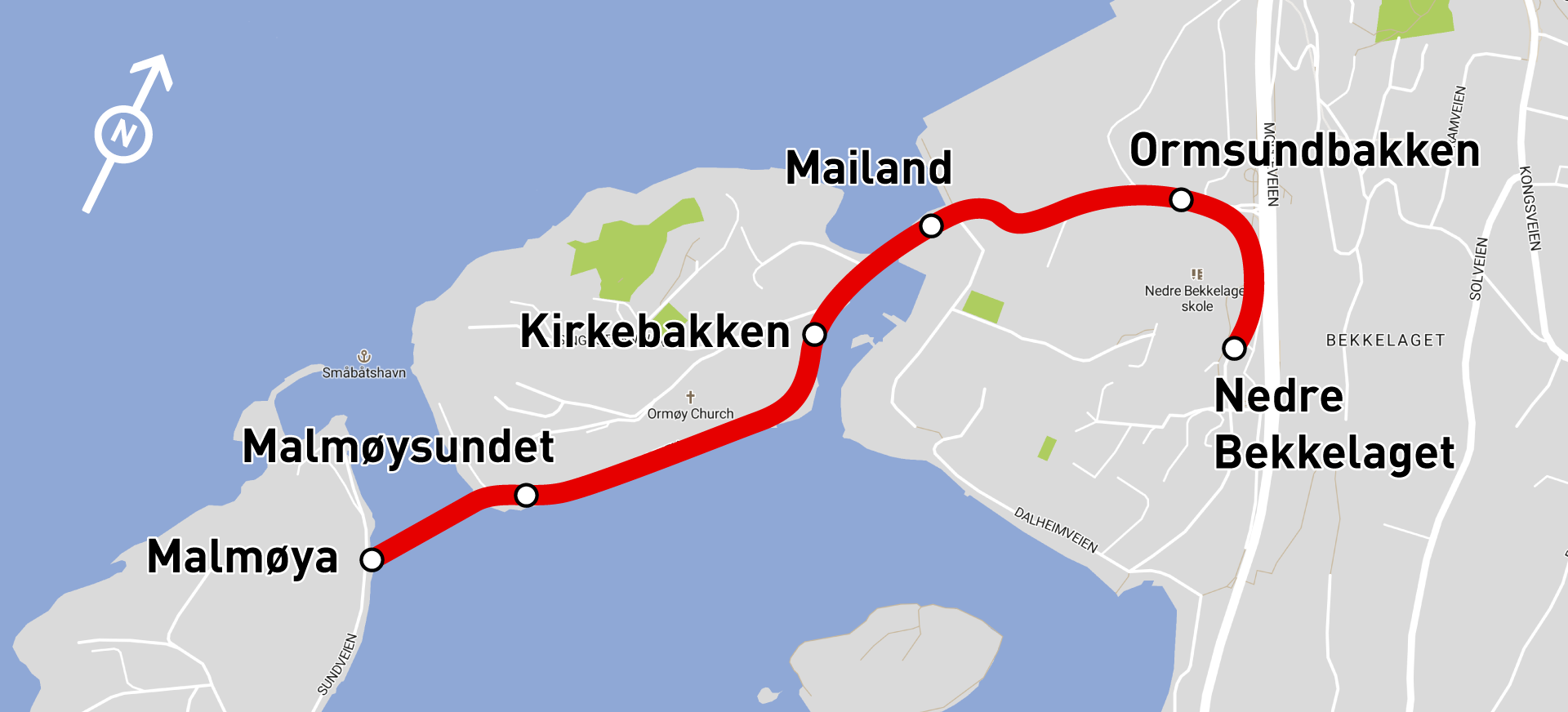 Why did Ruter select Ormøya to test out the self-driving buses?
We want to understand how self-driving vehicles can influence daily logistics in a typical neighbourhood. By increasing the frequency of our public transport service using self-driving vehicles, we want to see if we can get fewer cars on the roads in the neighbourhood.
This relatively limited geographical area makes it easier for us to understand the benefits of this kind of service upgrade.
What is the frequency and how long will the buses run on the route?
We have planned to schedule 2 or 3 self-driving buses on bus route 85B. Frequency will depend on the speed at which the Directorate of Public Roads permits us to operate with. We will likely adjust the frequency during the pilot project.
How is the safety along the route attended to?
Safety is the highest priority of this highly innovative project. We carried out thorough evaluations of the vehicles and the planned routes together with our collaborators: the Norwegian Public Roads Administration (NPRA) and the Municipality of Oslo's Agency for Urban Development (Bymiljøetaten).
We also involved specialists and experts during the planning process such as the emergency services and Norwegian Cyclists Association. The local community around Ormøya also participated in the evaluations with representatives from Nedre Bekkelaget School and the residents' associations in these areas.
The bus will drive itself, but we have stationed a host on board to ensure good service, safety and trafficability. The host's primary function is to provide assistance to passengers if they need it and answer any questions the customers may have about the vehicle and the service.
Where can I find updated information about project progress?
We will provide updated information online (www.router.no) until start up, and it will be possible to contact Ruter's customer support team if you have any questions about the project. In advance of start-up, we will also invite you to an information meeting under the auspices of the residents association at Nedre Bekkelaget School to tell you more about the buses and what the service offers.
Once the buses are in operation, information about the buses will be found on the RuterReise app and our Travel Planner at ruter.no.
Do you have any more questions?